Lasso, there's another one, and her name is Python
In any long-term relationship, whether it is with people or technology and the tools of the trade, it is practical to periodically evaluate the situation. For the last several years I have been looking at how I got here, where I am now, and where I see myself going with my business.
Writing helps me gain clarity with murky and complicated situations. With the (long overdue) relaunch of my website, I felt that I needed to put my thoughts in writing regarding my past relationship with Lasso and my present inclination toward Python, a language that I think is better in most ways.
Lasso is great for "non-programming designers and DIY'ers"¶
Lasso originated in 1993 as a way to serve FileMaker Pro databases over the web. It has since evolved into an application server and a general-purpose, high-level programming language. It has some "batteries included"—database and web server connectors, PDF and image processing, file I/O, networking—all in a downloadable point-and-click installer or via apt or yum. Lasso runs on major operating systems, including Mac OS X, Windows, and a limited set of Linux distributions, Ubuntu and Red Hat/CentOS. It is relatively easy for developers to get started with writing simple applications in Lasso compared to many other languages.
FileMaker Pro is a desktop database application that provides non-technical people with an easy way to interact with data through a friendly graphical user interface. Users of FileMaker Pro became the first adopters of Lasso.
I've been using Lasso since version 3.6 in 2000, and it was my first web application-oriented language. My first database-driven web application allowed people to register for an entry level soccer referee clinic, served from my Macintosh Performa 6116CD over a painfully slow DSL connection at home. I started a small user group, LassoSFO, that included a handful of Lasso developers, but never more than a half-dozen at any given meeting. We were small, close, and content. Over the years members of the Lasso community have helped me gain clients in my business to the point where I could transition from a part-time freelancer to a full-time self-employed web application developer.
But as we entered a new millennium, grumblings became louder amidst the community of Lasso developers. We began to broaden our views of web programming languages—including Ruby, PHP, and Python—and noticed significant problems with Lasso as a product and how that impacted the Lasso community itself.
Hit by a bus and bottlenecks¶
The Lasso language is developed by a single person. If that person leaves, then there is no one who can continue its development. This is a significant risk to those who depend on stability and bug fixes to the product.
Hypothetical situation aside, one person can only do so much at a time. This places an unnecessary constraint on the rate of development of the Lasso language. It takes too long for bugs to get fixed, new features to get implemented, and documentation to emit from the sole developer.
Python has a very large group of core developers.
Commercial versus open source¶
Lasso is a commercial product owned by a private company. Development of Lasso is founded on making financial profit. I don't fault the developers of Lasso for making a living, yet this foundation prevents a free and open exchange of ideas. The future of the Lasso product is not openly discussed and debated in the context of available resources to implement changes for the good of its existing users, but for increasing the company's own profit.
In contrast the course of Python is directed by the Python Software Foundation and its Benevolent Dictator for Life, Guido Van Rossum. Python's development follows a rigorous and open process called the Python Enhancement Proposal. It is a process driven by the community and steered by committee, with veto power granted to the BDFL.
With an open source structure, Python attracts kindred souls, folks who tend to pay good will forward.
Burning bridges¶
Lasso floundered from mismanagement and unmet promises of delivering products. The original owner of Lasso masqueraded as the Blueworld evangelist Cathy Cunningham on Lasso Talk, introducing a bad kind of weird and mistrust. Some members of the Lasso Talk email list were banned from the list for criticizing the Lasso product. In response, a significant number of developers became alienated by the owners of Lasso, forming a secret email discussion group where core members of the Lasso community could openly and freely discuss the Lasso product without fear of reprisals.
However no written discussion remains secret or private, and word eventually reached management of the Lasso product. In some extreme cases, a few owners and managers of Lasso publicly insulted, derided, and mocked persons who dared to criticize their precious baby, the Lasso product.
These issues could have been easily dismissed as "isolated incidents" or someone "having a bad day". But the criticisms were entirely valid and born from bugs, instability, and other shortcomings of the Lasso product.
Fool me once¶
Then in 2007, whispers about a new Lasso 9 release began to circulate. Speed, stability, security, and simplicity were touted as characteristics of Lasso 9. In 2008, pre-sales of Lasso 9 were being taken. Lasso 8 code would "just run" in Lasso 9 and many other promises of an imminent release strung along the hopes of many developers.
A private, then a public, beta were released in 2009. However, without any new sales of Lasso licenses, development of the Lasso line stalled. In early 2010, Lasso 9.0 was released, but with very little documentation. LassoSoft moved documentation to Zoho, but the effort depended on the goodwill of the community to freely donate time and effort. Worse, many developers were disappointed to learn that "backwards compatibility with Lasso 8 code" had a very different interpretation by the owners of Lasso. This angered many developers. Others were deterred from migrating their solutions from 8 to 9 because of the immense effort required and almost no guidance or documentation of how to do so.
"This upgrade from Lasso 8 to 9 should take only 30 minutes, I reckon."
That summer an effort by a small group of developers entered discussion with the owners of Lasso to form a foundation to raise funds for completing the Lasso 9 product and bringing it to market. Toward the end of the year, it was announced that Treefrog Interactive, Inc., acquired LassoSoft, LLC, and the Lasso product line.
Unfortunately this life line was too little, too late. Many Lasso developers had moved on to other languages that could better provide what they needed, like a fully documented, tested, fast, and stable product. I was a big fish in a small pond heading toward a severe drought.
Import antigravity¶
By this time, I had already made a decision to explore Python, and made a commitment to learn about it. I attended my first PyCon in 2011 and have attended each year since. At PyCon 2011, I took a tutorial from Brandon Rhodes on using Sphinx, a learned skill that paid for my next 3 PyCons. I fell into a fantastic community of developers who have tremendous knowledge and experience, and are generous with sharing it. I attend many SFPython, PyLadiesSF, and BayPIGgies meetups and hack nights. I meet engineers from Yelp, Twitter, Mozilla, Disqus, Twilio, LinkedIn, Heroku, and many others who are building really cool things. Once I typed import antigravity, I have never looked at Lasso with the same optimism and joy.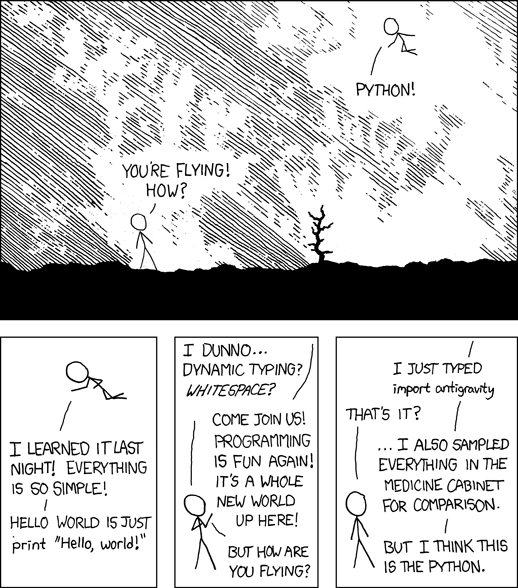 Along my journey through Python, I gravitated toward a heavy metal group with awesome T-shirts, the Pyramid web framework. There's something about taking what you know and learn along the way, then giving it all back to the community, that gives me a sense of purpose and belonging. What I lost in Lasso, I found again in Pyramid and the broader Python community.
More than a feeling¶
There's more than emotional, cultural, and social motivations that have attracted me to Python. More important to me are technical, statistical, and analytical reasons, as I will now elaborate.
Everyone's two favorite words after a long presentation¶
In closing, not much is changing for me. I am still traveling along the path of web application development, but I'll be spending gradually more time with Python at my side than Lasso.
As a commercial product, Lasso will never grow the size of its user base as rapidly as open source languages. Under the latest management by LassoSoft, Inc., the Lasso product line has a future, where previously it was in dire straits. I attribute that turnaround to management because they have engaged with its user base in honest, open, and sometimes brutal discussion. Even though criticism of "your baby" may seem harsh, they must be commended for listening, setting a course, and delivering on promises.
Did you like this article? Please send me a Gratipay, as little as 25¢ per week!
Updates, suggestions and comments regarding this article may be sent to Steve Piercy, [email protected] or comment using Disqus.
---
Written by Steve Piercy in Lasso on Wed, May 21, 2014.
Last modified: Thu, Jul 24, 2014